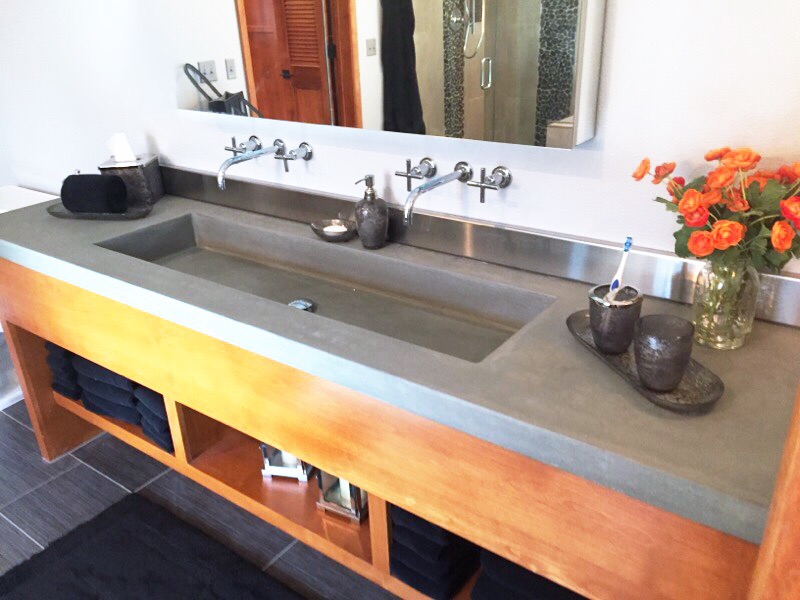 One of the advantages of a Concrete Creations custom concrete countertop is an integrated seamless sink.  Integrated sinks blend the wash basin and the countertop into a single one-piece top that is attached directly to the wall which provides a smooth surface where no dirt or bacteria can be held through everyday use, making them an extremely sanitary option.  Properly sealed, a concrete countertop and sink will be water and stain resistant as well.  Integrated sinks can be custom made in single bar sink sizes, large single kitchen sinks, equal double bowls, off-set large and small bowls, as well as a variety of vanity sink shapes and sizes.
Not everyone has a concrete sink so they offer a very distinctive style choice and statement.  Available in almost every color imaginable, the custom nature of concrete allows the craftsman to incorporate design features you may desire: integrated drain boards, trivets, personal inlays or a unique bowl shape or size.  Custom integrated sinks may be curved or have modular designs that blend with the facade of the cabinet with smooth lines that are made possible by the custom molding of the wash basin along with the countertop.  The sink drains may also be moved from the middle to more towards the back or offset to either side, allowing for more room under the sink.
The diversity of color, shade, texture and finishes of custom concrete vanities with integrated sinks has helped them to gain popularity with homeowners who appreciate their unique function and design.  Concrete has a visual warmth to it, a natural essence and a tactile character that draws people to it. The sleek, smooth lines enhance the décor of large or small bathrooms, simple or elegant and will weather the passing of time better than the house they are in and unlike some materials, concrete improves with age.
Create your countertop solution…