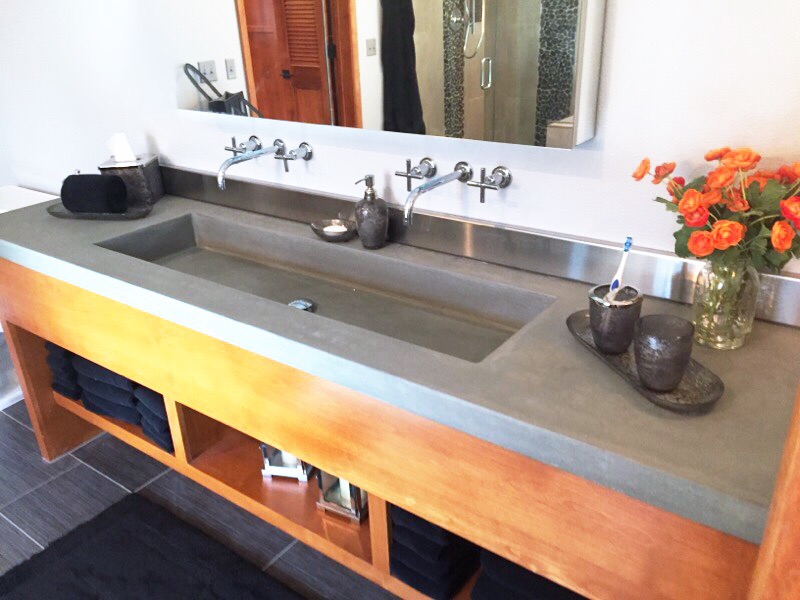 Concrete used to be thought of as building material for driveways, sidewalks and curbs.  Edgy and modern, concrete is now playing a starring role inside even the most elegant homes.  Homeowners love concrete for its beauty, versatility, and strength.  One of its many uses is as functional, stylish vanities for the bathroom.  Concrete vanities have character. They are beautiful and dignified, graceful and chic, but remain inviting and not too formal. Durable, dutiful, and intriguing, a concrete countertop will become not only a design centerpiece but also an endless source of conversation.
Concrete Creations is leading the way as more and more people are realizing concrete's value for making countertops. Shapes of concrete countertops are limited only by the imagination and the ability to build the forms. With the use of color pigments in combination with white cement and various aggregates, the spectrum of colors available in concrete countertops is virtually limitless.
Maybe bathrooms aren't the first place you think of when concrete comes to mind. But concrete bathroom sinks, countertops and showers can mean an ocean of change for the way the room feels.  You'll also be surprised at how warm and inviting concrete can be—the texture, the slope, the lines—with the right design.
Bathrooms are the ultimate place for concrete sinks and vanities. The most stylish plumbing fixtures were designed with exactly these types of concrete counters in mind.  If your bathroom is small, the concrete design you choose will dramatically bring the room to life.
After all, we spend a lot more time in the bathroom than we count, why shouldn't it be a trip into the extraordinary?  One of the enduring qualities of concrete is its ability to capture the eternal essence of its components and bring that beauty and balance to life.
The artisans at Concrete Creations are ready to introduce you to the marvels of concrete.